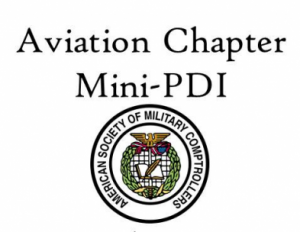 Each year, the Aviation Chapter of ASMC hosts a one-day Professional Development Institute (PDI). Taking the spirit and goals of the National PDI, this Mini-PDI is shorter and focused on the needs of the local workforce surrounding Wright-Patterson AFB. Keep reading for information about our upcoming and past Mini-PDIs, including presentation slides where available.
ASMC Mini-PDI 2021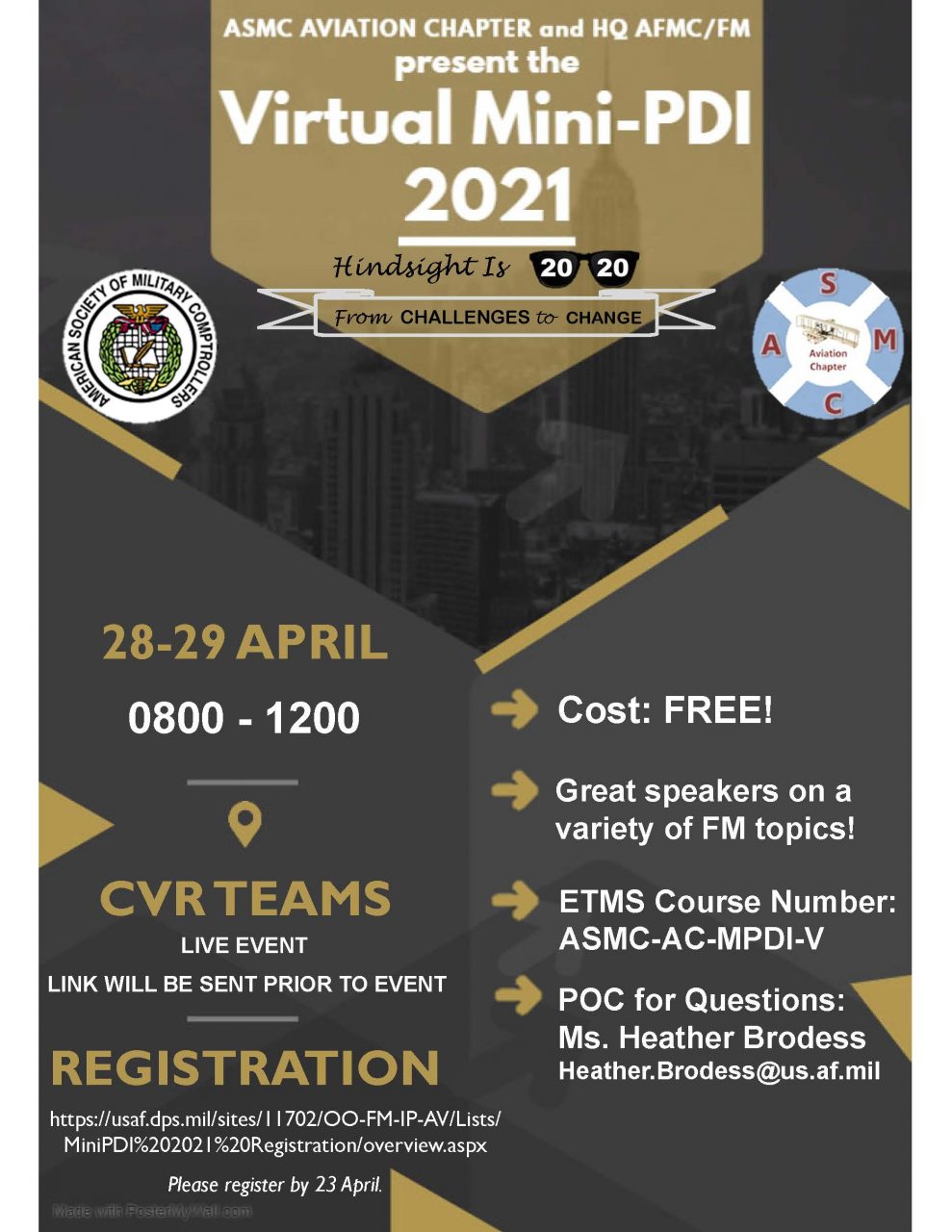 The theme for the 2021 Mini-PDI is "Hindsight is 2020 – From Challenges to Change." This year will be our first fully virtual Mini-PDI, taking place on the CVR Teams platform as a Teams Live Event. The event will run as two half-days, 8:00am-12:00pm on 28-29 April. There is no cost for attendance this year, and the event is worth 6 CLPs/CPEs.
Please register at this link. Registration is open through Friday, 23 April. You do not need to be an ASMC member to attend! We plan to send out the CVR event links to registrants by email on 26 April.
We know some people do not use their CVR accounts very often, so we will hold an optional Live Event where you can test your CVR account and equipment to make sure you can see and hear the stream. This test event will run 1300-1500 EDT on 21 April. Please use this link to access the test event any time during the two-hour window. (The link will require you to login with your CVR account, that way you can see if your account is active.)
ASMC Mini-PDI 2020
Note: The 2020 Mini-PDI, originally scheduled for 14 May, was cancelled due to the COVID-19 pandemic.
ASMC Mini-PDI 2019
The theme for the 2019 Mini-PDI was "Preparing the Way for Rapid Innovation." Here are the agenda and list of presentations. Please click the links to access bios and slides.
ASMC Mini-PDI 2018
Link to Briefings on ASMC Aviation EIM Site
The theme for the 2018 Mini-PDI was "Teamwork – Accomplishing Great Things Together." The link should be open to anyone with a CAC, and includes PowerPoint presentations and bio sheets for the following presentations:
Mr. Steve Sowers – Teamwork – Small Teams Do Great Things
Mr. James Reitzel – Financial Operations
Mr. Dave Weinberg – Taking Care of People (no slides used)
Dr. Stephen Chambal – Leading Clients from Data to Decisions
Brig Gen James Peccia III – Leadership
ASMC Mini-PDI 2017
Link to Briefings on ASMC Aviation EIM Site
That link should be open to anyone with a CAC, and includes PowerPoint presentation files for the following presentations:
Lyons – Performance Management
McDonald – Practical Leadership
Murphy – The Road Ahead
Neyland – Inspiring Resilient Leaders
Pletcher – Service, Strength and Success – Keys to the Journey