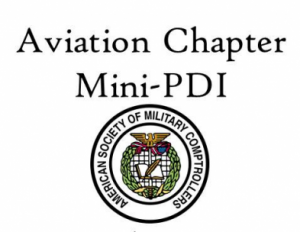 Each year, the Aviation Chapter of ASMC hosts a one-day Professional Development Institute (PDI). Taking the spirit and goals of the National PDI, this Mini-PDI is shorter and focused on the needs of the local workforce surrounding Wright-Patterson AFB. Keep reading for information about our upcoming and past Mini-PDIs, including presentation slides where available.
ASMC Mini-PDI 2021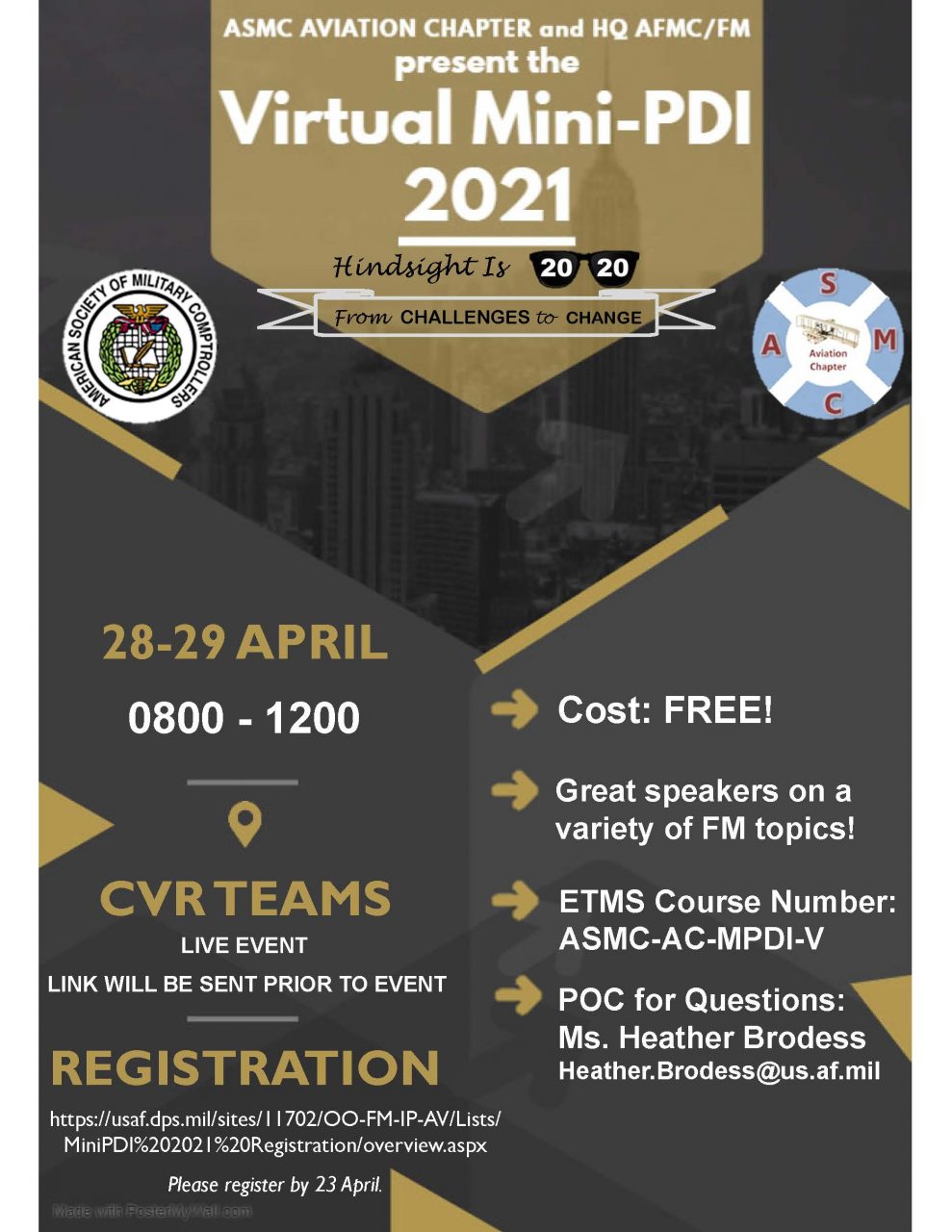 The theme for the 2021 Mini-PDI was "Hindsight is 20/20 – From Challenges to Change." This year was our first fully virtual Mini-PDI, taking place on the CVR Teams platform as a Teams Live Event. And what a success it was! The event ran as two half-days, 8:00am-12:00pm on 28-29 April.
For those who attended, we plan to send out the training certificates with your awarded CPEs by COB 13 May. As far as marking the training complete in ETMS or requesting CLPs through AcqNow, we cannot do that for you. We just give you a certificate. Please work with your training managers as necessary to close out the training in the systems and claim your CLPs.
We enjoyed some great speakers, as usual! The following people presented:
Brig Gen Michael Greiner, Comptroller, HQ AFMC
Mr. Carlos Rodgers, SES, SAF/FMB
Col Jeffrey Hamblin, Director, Special Programs Division, Air Force Life Cycle Management Center
Col Brian Kehl, Director, Plans, Programs, and Financial Management, HQ Space Operations Command
Ms. Jeannette Beer and Mr. Todd Baker, SAF/FMFS
Mr. Chip Fulghum, Chief Operating Officer, Endeavors
Mr. Ed Fritts, TekSouth
If we receive permission to distribute their slide decks, we will post them here. Keep an eye out for them!
ASMC Mini-PDI 2020
The 2020 Mini-PDI, originally scheduled for 14 May, was cancelled due to the COVID-19 pandemic.
ASMC Mini-PDI 2019
The theme for the 2019 Mini-PDI was "Preparing the Way for Rapid Innovation." Here are the agenda and list of presentations. Please click the links to access bios and slides.
ASMC Mini-PDI 2018
Link to Briefings on ASMC Aviation EIM Site
The theme for the 2018 Mini-PDI was "Teamwork – Accomplishing Great Things Together." The link should be open to anyone with a CAC, and includes PowerPoint presentations and bio sheets for the following presentations:
Mr. Steve Sowers – Teamwork – Small Teams Do Great Things
Mr. James Reitzel – Financial Operations
Mr. Dave Weinberg – Taking Care of People (no slides used)
Dr. Stephen Chambal – Leading Clients from Data to Decisions
Brig Gen James Peccia III – Leadership
ASMC Mini-PDI 2017
Link to Briefings on ASMC Aviation EIM Site
That link should be open to anyone with a CAC, and includes PowerPoint presentation files for the following presentations:
Lyons – Performance Management
McDonald – Practical Leadership
Murphy – The Road Ahead
Neyland – Inspiring Resilient Leaders
Pletcher – Service, Strength and Success – Keys to the Journey